Hey there! Welcome to Le Gateau Bakeshop!
Discover the artistry of savoring sweet moments with our delicious modern cakes and desserts. At Le Gateau, we're devoted to crafting unforgettable treats that enhance your special occasions. Join us in cherishing life's extraordinary moments with our delightful creations.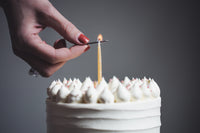 Indulge in the sweetness of convenience with our easy click & collect online shop! Secure your favorite cakes by preordering online, available for pickup Tuesday to Friday (10am-4pm) and Saturday (10am-2pm). Choose your preferred date and time during checkout, ensuring a delightful, freshly baked experience.
For those spontaneous cravings, our daily selection of cakes, pastries, cupcakes, and cookies awaits you in-store. Need something sooner than our 2-day online notice? Give us a call, and we'll strive to make it happen.
Exciting news! We now offer delivery services; call us for details and arrange for a doorstep treat. For on-the-go cravings, find us on DoorDash, UberEats, and Skip the Dishes, delivering our most popular menu directly to your doorstep. Additional fees may apply for delivery services. Your cravings, our pleasure – experience the magic of our bakery, delivered!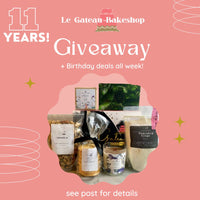 🎉🍰 Celebrating 11 Sweet Years! 🎈

This month marks our 11th birthday in the heart of Vancouver's East Village, and the party continues all week long! 🥳 Here's a taste of the delightful deals we're serving up:

📅 Wednesday, December 6th - Online Special:
Save 11% off the entire shop with code HAPPY11.

📅 Thursday, December 7th - In-Store Treat:
Grab 4 cupcakes for just $11!

📅 Friday, December 8th - In-Store Bliss:
Enjoy $11 boxes of assorted macarons.

📅 Saturday, December 9th - In-Store Mini Extravaganza:
Get two mini cakes for just $11.
Head over our Instagram page to enter our giveaway!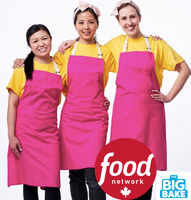 Food Network Winners!
We were so thrilled to watch LGB team member Winnie compete and win the grand prize on Food Network's The Big Bake: Holiday. Season 3 Episode 3
Made to order, when you order.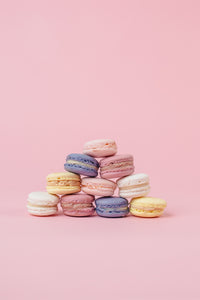 Location
3458 E Hastings St, Vancouver
Tuesday - Friday , 10am - 4pm
Saturday, 10am - 2pm