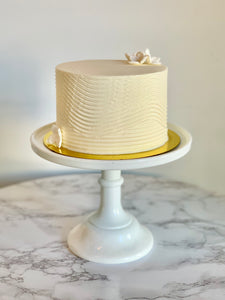 Vanilla cake filled with vanilla bean pastry cream and finished in vanilla buttercream. 
Pictured: 3 layer tall 
When you check out you will be able to select the date and time you would like to pick up your order. The days and hours available are set to our store hours, outside of those hours our store is closed, and pick up is not available. The shop is currently set to 1 full day lead time, if you need the cake for the following day please call us directly to see what is available. 
Delivery by courier is available for an extra fee. You will need to call or email us directly to arrange delivery.
Storage + Serving: Our cakes will last for 5 days wrapped in the refrigerator. It is  important you allow your cake to come to room temperature before serving. Small cakes should sit out at room temperature 1-3 hours before serving, and larger cakes 3-4 hours before serving. 
Allergies: All cakes are make in a facility where peanuts, tree nuts, eggs, soy, and gluten are present.