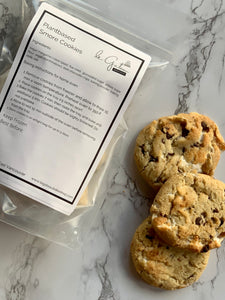 Like your cookies hot out of the oven? Our cookie dough is available in perfectly portioned pieces of dough that can be stored in your freezer, and baked whenever you please!
Each re-sealable bag contains 6 perfectly portioned ready to bake raw frozen cookies. 
Ingredients: Vegan Margarine (clean label), granulated sugar, yellow sugar, flax seed, vegan marshmallow, dairy free dark chocolate chip.